One of our Founder Trustees has retired after many years of selfless work and commitment to the Trust.
Maurice Hope (Mo) was in there at the start, was a driving force behind the realisation of his dream to see a permanent Memorial to the 10's of thousands of Army Apprentices who over countless decades provided the backbone for the British Army's fist.
This tribute to Mo has been penned by another outstanding Founder Trustee, Major Gordon Bonner, and it sums up the debt of gratitude we all owe Mo …..
" In 2009 the Arborfield Old Boy's Association considered a proposal from Mo that a memorial be built; dedicated to all Army Apprentices who had served worldwide in war and peace.
Subsequently, on the 28 October 2009, an inaugural meeting attended by representatives from the four Old Boy's Associations of Arborfield, Carlisle, Chepstow and Harrogate convened at the NMA, Alrewas, and decided that they could indeed, design, raise funds and construct a memorial that would provide a fitting tribute to all Army Apprentices who were trained as soldier-tradesmen.
This enterprise came to a successful conclusion with the dedication and unveiling of the memorial on the 7th September 2011.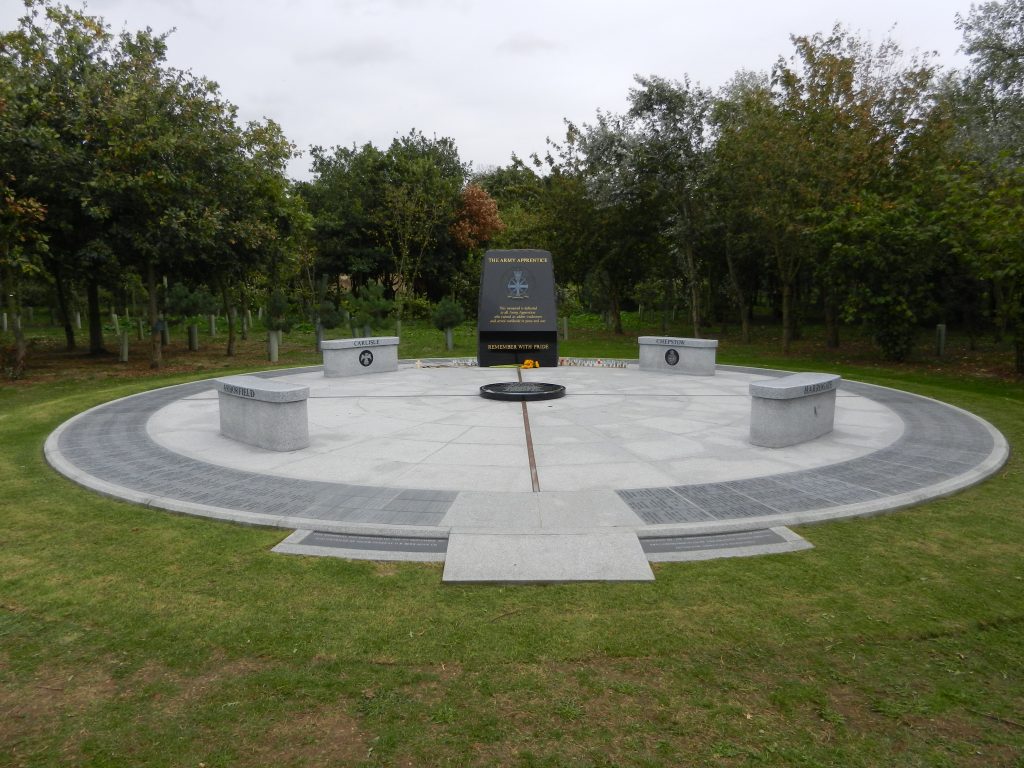 Mo Hope was one of the founding Trustees, an unsung hero, who liked to work quietly in the background, but none the less was an effective member of the Trust.
For example the final design of the memorial was based on an original drawing submitted by Mo with the base platform representing the circle of life.
Further, since Mo  lived  fairly close the NMA, Alrewas;  times without number, he would  by  the request of other Trustees (particularly the Secretary) at his own expense make a return trip of some 80 miles to follow up on some point of administration  in liaison with the NMA or the contracting stone mason during construction.
In addition during construction, he recorded many digital images of the construction process which became the basis for a historical record of proceeding for the entire project.
In cooperation with Johnny McGahan (Ex-Harrogate) he was responsible for the choreography of dedication day, and for the last six years was responsible for the   planning and execution of the annual memorial service held on site at the NMA.
Recently Mo Hope was appointed Chairman of the Potteries Branch of the REME Association, consequently in view of his new commitment submitted his resignation as a Trustee of the AANM Trust.
There is no doubt that Mo Hope during his tenure made a significant contribution to our enterprise, thus on behalf of the Trustees, Members, Family and Friends we thank Mo for his dedication, commitment and for all his efforts, and we wish him every success in his new role with the REME Association "
Gordon Bonner 
September 2017